Welcome to the Jade Project website. This project, which ran from 2004-2009, aimed to support girls and women who are interested in the mathematical, computing, and physical sciences and engineering. Resources and information about the project can be found on this site and in our book, Stories from the Jade Project.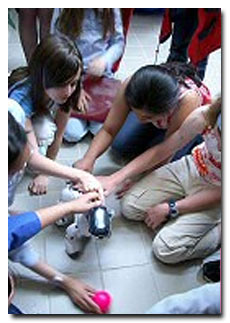 Most Jade projects were located in British Columbia and the Yukon. Jade, the official gemstone of British Columbia, is renowned for its beauty and strength, and is used to indicate preciousness in Chinese culture. We hope that our project has touched the lives of many women, inspiring them to try something different, satisfying, and very rewarding.
The Jade Project is generously funded from 2004-2009 by the Natural Sciences and Engineering Research Council of Canada, as part of their NSERC Chairs for Women in Science and Engineering program, and by General Motors Canada. Additional support is provided by the Computing Research Association's Committee on Women in Computing and by the Computer Science Department at U. of British Columbia.