Brian Fisher's Research Page  
---
I have built upon my early training in the experimental investigation of human cognitive processes to develop a program of translational research bridging cognitive science and the design of interactive visualization systems. My goal is to advance new theories and research methods for understanding how highly interactive visual information systems can support "close-coupling" of human and computational processes for improved performance in cognitive tasks such as situation analysis, decision-making, creativity, and collaboration in situations ranging from emergency management to aircraft safety, computer-aided design, security administration, and computer-supported learning.

Central to all of these projects is the emerging cognitive systems science that advances current research on cognitive style, expert cognition and skilled perceptuomotor performance to adapt information technology to individual capabilities. Together with field research and "pair analytics" translational methods, this core of laboratory research provides a knowledge-based approach to the design and customization of information systems and their integration in organizational processes.

Visual Analytics and Interaction Science


At Simon Fraser University I am an Associate Professor in the SFU School of Interactive Arts and Technology.and the Program in Cognitive Science. My SIAT Web page is here.  SIAT offers  interdisciplinary undergraduate programs in media studies, fine art, technology, and design, as well as MA, MSc. and Ph.D. programs.

At SFU I am Director of the SCIENCE Lab and Member of VAR Lab.


A short interactive slideset intro to our research program is here, remember to click on the slides to advance!


A more in-depth presentation (quicktime) can be found on the IRMACS website, the slideshow (quicktime) is  here, pdf of notes here.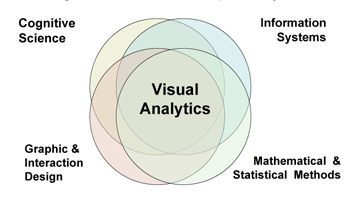 Technology Research and Development


At UBC I am Associate Director of the Media and Graphics Interdisciplinary Centre (MAGIC) is an academic unit in the UBC Faculty of Graduate Studies that seeks out industry contracts and other applied research opportunities that require knowledge from multiple academic disciplines. We then assemble interdisciplinary teams of scholars and industry partners that can bring to bear a range of university intellectual resources on those projects, and structure and manage their efforts to meet the needs of our client. MAGIC also offers a formal Master's-level Specialization in HCI for students from any UBC department. Recent projects include CZWeb, CZTalk, Various Imager lab projects, UBC Vision Lab tracking studies and grants and publications below.


Technology entrepreneurship and business process.


An understanding of the human in the interaction has the ability to bridge market analysis and design, leading to new ventures and improved business processes. As an adjunct professor in the UBC Faculty of Commerce I taught Implementing e-Business in the Organization, Entrepreneurship and Preparing the Business Plan in the MBA program. I was a founder of theNew Ventures BC Association, which hosts the largest business plan competition in Canada with Telus as a lead sponsor. I have been involved as a founder, board member, and advisor for a number of Canadian and international start up companies.


Integration of design, technology, and organization


While my work has had an impact within the fields of technology, design, and business, I am particularly focused on the integration of those perspectives in co-evolution of organizations and enabling technologies. This is an emerging area of study that has important implications for technology-enabled organizations in government and the private sector. A key driver for this research in the post-9/11 world is the need to prevent acts of terrorism and to respond to natural disasters as well as terrorist attacks. As part of that effort I am pleased to have contributed my research perspective and approaches to "Illuminating the Path: The Research and Development Agenda for Visual Analytics" recently published by NVAC and IEEE, funded by the US Department of Homeland Security. This sets out a grand challenge for visual analytics research and is central to the international effort in this important area.
---
Research Affiliations
Director, SFU Spatial Cognition and Interactive Expertise in Natural and Computational Environments (SCIENCE Lab)

Associate Director, SFU Visual Analytics Research Lab (VAR Lab)

Associate Director, UBC Media And Graphics Interdisciplinary Centre (MAGIC)

Member, SFU Centre for Interdisciplinary Research in the Mathematical and Computational Sciences (IRMACS)

Adjunct Professor,  UBC Department of Computer Science

Member, UBC Brain Research Centre

Associated Faculty, UBC Department of Psychology

Associate Member,   UBC Institute for Computing, Informat

i

on & Cognitive Systems  (ICICS) in the HCI Research Group

Recent Teaching
Interaction Design: Usability in Interactive Environments (SFU IAT 201), Managing Visual Analytics Systems (IAT 481 with Ginger Grant).

Interaction Science: Interaction Science (IAT 855, with John Dill), Cognition, Collaboration, and Learning (SFU IAT 812), Quantitative Research Methods (IAT 802),  Cognition in Interactive Environments (IAT302),  Cognition in Design Science (SFU IAT 200)

Computer science: User Interface Design (UBC CPSC 444), Human Computer Interaction (UBC CPSC 544)

Electrical and Computer Engineering: Human Computer Interaction in Engineering Design (UBC EECE 418, with Sidney Fels)

Business: , Entrepreneurship (UBC BAEN 500, with Tarrnie Williams), Preparing the Business Plan (UBC BAEN 504, with Tarrnie Williams), Implementing eBusiness in the Organization (UBC BAIT 513)
Supervision

Postdoctoral Research Associate
        Dr. Richard Arias-Hernandez
Dr. Nathalie Prevost
Ph.D. Students
   
    Tera Marie Green
        Daniel Ha
        Aaron Smith


Masters Students
       
Shannon Coates
        Mona Haraty
        Syavash Nobarany
        Hon Cheong Lam
        Rey Lim
        Andrew Wade 
Past Students:

SFU: Caitlin Akai (MSc.)
UBC Cosupervision
Ying Zhang, Jonathan Sillito, Barry Po, Jason Harrison, James Gauthier
Current grants and contracts
Boeing Support for Visual Analytics in Canada

Visual Analytics for Safety and Security: NSERC Strategic Grant (with CAE/Greenley, Occulus, MDA and NVAC)

Recent grants and contracts
HOT Admin: Human Organization and Technology Improvement of Security Administration: NSERC Strategic Grant

BEST- Banc d'Essai de Services de liaisons optiques pour un environnement de Téléformation doctorale (CANARIE)

Information Systems for Skilled Cognition & Communication NSERC Operating Grant

Pacific Rim Visualization and Analytics Center: US DHS 

Purdue Visualization and Analytics Center: US DHS 

Kaleidoscope (co-investigator): EU 6th Framework Program
Representative publications and reports (Student authors in bold)
Interaction Science as a methodology

Fisher, B. Science and Smart Graphics. (in press) Information Technology.

Fisher, B., Ebert, D., Gray, W. Hegarty, M, Rensink, R. (2008) Panel: The interdisciplinary science of visual analytics. IEEE Visual Analytics Science and Technology. Columbus, OH.


Contributor to "The Science of Analytical Reasoning: Perception and Cognition". In J. Thomas & K. A. Cook (Eds.),Illuminating the Path-- Research and Development Agenda for Visual Analytics : IEEE Press.

My SIGGRAPH course with Booth (2002) Fels, MacLean (2003-2004) Munzner (2003-2004) , and Rensink (2003-2004) Design of interactive multimodal media systems. From 2004, my Introduction notes, Hearing Psychophysics notes, Seeing and Hearing Events notes.  Here is a review of the 2003 version as a whole and the full set of 2004 course notes with all presenters.

Interactions Magazine 2002 design brief about the UBC HCI program (PDF)

Cognitive Science of interaction

Green, T.M., Ribarsky, W. & Fisher, B. (2009). "Building and applying a human cognition model for visual analytics," Information Visualization 8(1)

Green, T. M., Ribarsky, W., Fisher, B. (2008) Visual Analytics for Complex Concepts Using a Human Cognition Model. IEEE Visual Analytics Science and Technology. Columbus, OH.


Po, B. Fisher, B. Booth, K. (2005) Comparing Cursor Orientations for Mouse, Pointer, and Pen Interaction. CHI 2005 (full paper)

Po, B. Fisher, B. Booth, K. (in press) A Two Visual Systems Approach to Understanding Voice and Gestural Interaction. Virtual Reality (Special Issue on Language, Speech, and Gesture).

Po, B., Fisher, B., & Booth K. S. (2004) Mouse and Touchscreen Selection in the Upper and Lower Visual Fields
CHI 2004, Vienna Austria.

Po, B., Fisher, B., & Booth K. S. (2003) Pointing and Visual Feedback for Spatial Interaction in Large-Screen Display Environments. In Butz, A., Krüger, A., Olivier, P. (Eds.) Proceedings of the Third International Symposium on Smart Graphics, Heidelberg, Germany, July 2-4, 2003.

Graphical interfaces for collaboration and cognition

Lam, H., Fisher, B. & Dill, J. (2005) A Pilot Study of CZTalk: A Graphical Tool for Collaborative Knowledge Work. Hawaii International Conference on Systems Sciences. Hilton Waikoloa Village, Hawaii.

Gauthier, J., Fisher, B., Klawe, M. (2003) Peer Presence and Real-Time Assessment: A Symbiotic Relationship. EdMedia 2003, Honolulu, HI.

UIST 2002 "Mighty Mouse' Multi-screen Collaboration Tool" (PDF)

Slides from a talk in 2001 at Banff Centre for the Arts workshop on Cognitive Armatures and Emotion Architectures

Slides for an Internet World Canada 2001 talk on knowledge management applications of CZWeb and PlanBee,

Slides from a Web-enabled R&D 2001 talk on cognition and collaboration with reference CZWeb and PlanBee.

From HCI International 97, a paper on user test results forCZWeb, a tool for the creation of cognitive workspaces. Another CZWeb paper

One perspective onLearning collaboration environment development from ED-MEDIA and ED-TELECOM 97.

Spatial cognition in large-screen, transformed, and immersive displays

Liu, G. Austen, E. L., Booth, K.S. Fisher, B., Rempel, M.I., & Enns, J. (2005) Multiple Object Tracking Is Based On Scene, Not Retinal, Coordinates. Journal of Experimental Psychology, Human Perception and Performance

Swindells, C., Po, B.A., Hajshirmohammadi, I., Corrie, B., Dill, J.C., Fisher, B.D. & Booth, K.S. (2004). Comparing CAVE, wall, and desktop displays for navigation and wayfinding in complex 3D models. In Proceedings of CGI 2004 (Computer Graphics International), Hersonissos, Crete, Greece, June 16-19, pp. 420-427. 

SIGGRAPH 2002 Panel on Large Displays: panel description, Quicktime movie of the presentation, and the slides (PDF)

A Graphics Interface 2000 paper on Wayfinding in Virtual Environments

An expanded version of a theory piece presented at the AAAI Symposium on Smart Graphics 2000

InfoVis 1999 paper on air traffic control displays
Recent grants and contracts
Closing the Loop in Immersive CAD General Motors of Canada and BC Advanced Systems Institute research contract

Information System Design for Human Cognition and Communication. NSERC Operating Grant: 2001-2004

New Media Collaboration Studies Network (co-investigator) SSHRC Networking grant, Sara Diamond PI (Banff New Media Institute)

Flow Keeper Research contract (coinvestigator) Nissan Motor Company

Smart Seat Research contract (coinvestigator) Nissan Motor Company

Misc. Info
If you count referreed conference proceedings, my Erdös number = 2

Gauthier, J., Fisher, B., Klawe, M. (2003) Peer Presence and Real-Time Assessment: A Symbiotic Relationship. Proceedings of EdMedia 2003, Honolulu, HI.


Erdös, P. , Harary, F., Klawe, M. (1980) Residually complete graphs. Combinatorial mathematics, optimal designs and their applications (Proc. Sympos. Combin. Math. and Optimal Design, Colorado State Univ., Fort Collins, Colo., 1978). Ann. Discrete Math. 6 , 117--123.
This page is maintained by: