Geometry Center Videos, Revisited
---
Page index: Intro | Written Material: Main Trilogy | Videos: Main Trilogy | Geometry Center Video Library Index
---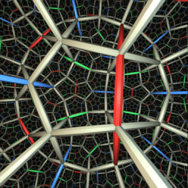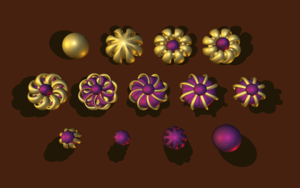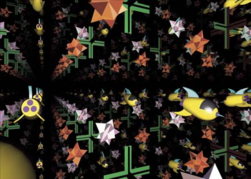 Intro
The trilogy of Geometry Center videos are now all legally available for free online! These videos brought brought concepts from geometric topology to general audiences through computer-generated visualization in the early 1990s. Not Knot, released in 1991, illustrates a remarkable swath of knot theory and hyperbolic geometry. Outside In, released in 1994, showcases Thurston's approach to turning a sphere inside out. The Shape of Space, finished in 1995, is about spaces that are finite but have no boundaries, covering some of the material in the book of that name by Jeff Weeks. These videos were shown at the SIGGRAPH Electronic Theater, featured on the cover of Scientific American, and won awards at NICOGRAPH, the London Effects and Animation Festival, Prix Pixel Imagina, and Prix Ars Electronica.

These creations are no longer formally in print, since VHS tapes and DVDs are obsolete. The rights have now been reverted from the original publishers (AK Peters and Key Curriculum Press) to the authors. We are now able to post both the videos and written supplements for all to enjoy. The videos have been uploaded by many people over the years and viewed many millions of times (and even used for parody mashups!), but the written supplements had not been widely available.

In addition to the flagship videos, many more videos were created at the Geometry Center by visitors and summer interns, typically made in collaboration with the technical staff. Some were fully scripted and narrated videos that can stand alone. Others were intended as "video overheads", made to accompany a research talk given by a mathematician - quick to create, and without voiceovers. Many documented summer student projects. Over 200 physical videotapes were created, using a mix of single-frame recording and live on-screen demos. We are now digitizing and uploading most of the unique (finalized, non-draft) material that was the core of Geometry Center video library; the full list of what has been / will be converted is below.

The Geometry Center was the short name of the NSF-funded National Science and Technology Center for the Computation and Visualization of Geometric Structures, which was located at the University of Minnesota from 1991-1998. Its precedessor, The Geometry Supercomputer Project, started in 1987. Video creation was only one of the many achievements of the Center; a good overview of the full scope of its mission and accomplishments is in the 1994 self-study report.
Written Material: Main Trilogy
Videos: Main Trilogy
Not Knot, 17 min

Outside In, 22 min

The Shape of Space, 11 min

Views counts above are from October 2021
Geometry Center Video Library Index
Compilations

Individual Tapes (entire tape uploaded as single segment)

Segments (separate segments uploaded from specific tapes)

S-33: 14.5 min
S-51: 61 min
S-52 76 min
S-62
S-69:
S-70:

Classical Surfaces, Alfred Gray. 17 min

00:10 Astrotoroidal Sphere
00:44 Bohemian Dome of Type (4,4,4)
01:23 Bohemian Dome of Type (8,3,3)
02:00 Catenoid
02:39 Constant Positive Curvature Surface of Revolution of Barrel Type
03:18 Constant Positive Curvature Surface of Revolution of Football Type
03:55 Crosscap
04:36 Dini's Surface of Constant Negative Curvature (A Generalized Helicoid)
05:19 Ellipsoid Showing Lines of Curvature
05:53 Enneper's Minimal Surface
06:33 Helicoid
07:11 Henneberg's Minimal Surface
07:49 Hyperboloid of Two Sheets Showing Lines of Curvature
08:25 Klein Bottle
09:25 Kuen's Surface of Constant Negative Curvature
10:15 Monkey Saddle
10:54 Pseudosphere
11:33 Conoid
12:08 Steiner's Roman Surface
12:54 Ellipsoid Parametrized by a Generalized Stereographic Projection
13:32 Torus of Type (4,4,4)
14:00 Torus Type (3,8,8)
14:33 Torus Knot of Type (2,5)
15:18 Twisted Sphere or Corkscrew Surface
15:56 Catalan's Minimal Surface

S-86:
S-98:
S-102:
S-103:
S-106:
S-113:

My Time at the Geometry Center Part 2. Chaim Goodman-Strauss. Spirographs, Dodecafoam, Stellated Icosahedra. Aug 1995
Some Radially Symmetric and Non-Radially Symetric Profiles. Doug Clancey, Project Afton. Dec 1995. 2.3 min
Mission: Invariant! Peter Olver, Steven Haker, Allen Tannenbaum, & Stuart Levy. June 1996. (curve-shortening flows applied to feature recognition). 2.5 min
Glimpses of the Five Platonic Solids. Gabor Toth (Rutgers, Camden) & Stuart Levy. July 1996. 10.5 min
24:30 - 28:00. Tony Yezzi, Allen Tannenbaum. Segmentation through the Riemannian Evolver. March 5-6, 1997. With slevy.
3-Dimensional Competitive Lotka-Volterra Systems. Michael Drew Lamar, Stuart Levy, Mary Lou Zeeman. May 1997. 2.8 min

S-115:
S-117:
---
Tamara Munzner Last modified: Tue Jan 11 02:08:27 PST 2022