Graduate Students Supervised by David Poole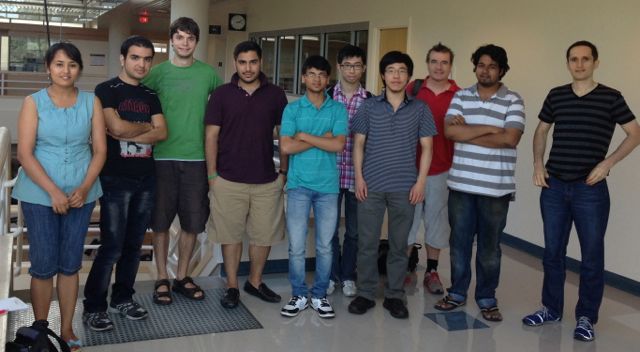 Sanjana, Mehran, Matt, Mehrdad, Anuj, William, Charles, David, Anupam, David, July 2013.
Ph.D.
Bahare Fatemi, ongoing.
Matthew Dirks, ongoing.
Sayed Mehran Kazemi, Representing and learning relations and properties under uncertainty, 2018
Michael Chiang, 2011, Learning latent theories of relations and individuals
Rubén Morales-Menéndez, 2003, Real-time Monitoring and Diagnosis in Dynamic Systems Using Particle Filtering Methods, (Ph.D. from ITESM) co-supervised with Nando de Freitas.
Carl Alphonce, 2000, A parsing explanation of linear movement asymmetry in natural language. Co-supervised with Henry Davis.
Andrew Csinger, 1995, User Models for Intent-based Authoring, co-supervised with Kelly Booth.

Runping Qi, 1994, Decision Graphs: Algorithms and Applications to Influence Diagram Evaluation and High-Level Path Planning Under Uncertainty.

Nevin Lianwen Zhang, 1994, A Computational Theory of Decision Networks

Julian Craddock, 1993, Making Predictions Directly from Past Experiences

Yang Xiang, 1992, Miltiply Sectioned Bayesian Belief Networks for Large Knowledge-Based Systems: An Application to Neuromuscular Diagnosis, co-supervised with Michael Beddoes.

Pierre Gaboury, 1990, VLSI Architecture Design Using Predicate Logic, co-supervised with M.I. Elmasry

Paul Van Arragon, 1990, Nested Default Reasoning for User Modelling

Eric Neufeld, 1988, Construction of a Sound Nonnumeric Probabilistic Reasoner, co-supervised with Romas Aleliunas.

M.Sc.
Wan Shing Martin Wang, Hierarchical structure and ordinal features in class-based linear models, 2021
Ali Mohammad Mehr, Prediction and anomaly detection in water quality with explainable hierarchical learning through parameter sharing, 2020
Ainaz Hajimoradlou, Predicting landslides using contour aligning convolutional neural networks, 2019
Mohammad Amin Aghaee Rad, Machine learning of lineaments from magnetic, gravity and elevation maps, 2018
Adnan Reza, essay, 2019
Bahare Fatemi, 2017, Finding a Record in a Database
Anupam Srivastava, Modeling ordinal data for recommendation system, 2014.
Matthew Dirks, 2014, Sensing and sorting ore using a relational influence diagrams
Sanjana Bajracharya, 2014, Interactive visualization for group decision-making. Cosupervised with Gunilla Öberg
Anupam Srivastava, 2014, Modeling ordinal data for recommendation systems
Chia-Li (Charles) Kuo, 2013, Probabilistic reasoning with undefined properties in ontologically-based belief networks
Disha Al Baqui, 2007, Value-focused GAI network structure elicitation given a domain Ontology, co-supervised with Giuseppe Carenini.
James Cook, 2007, Mechanism Design and Veto Mechanisms for Sequential Meeting Scheduling (essay).
Oxana Chakoula, 2002, Predicting Users' Next Access to the Web Server

Leslie Tung, 2002, A Clique Tree Algorithm Exploiting Context Specific Independence

Rita Sharma, 2001, Symmetric Collaborative Filtering using the Noisy Sensor Model

Peter Gorniak, 2000, Keyhole State Space Construction with Applications to User Modelling

Carl Alphonce, 1992, Towards and Explanatory Division of Competence and Performance: A Language-Independent Parsing Scheme, co-supervised with Henry Davis.

Michael Horsch, 1990, A dynamic approach to probabilistic inference using Bayesian networks
Andrew Csinger, 1990, Implementing a Normative Theory of Communication in a Framework for Default Reasoning..