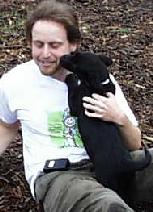 Personal info
The number one piece of information to know is that I'm married to Rachel Pottinger, a fellow graduate student. We were married on July 30th, 2000 and all went well. Since then, July 30th has often been quite an extravagant day. Check out our first and third anniversaries! The fourth is under construction. Second, I like dogs. I really like dogs.

In fact, for five years, I volunteered each weekend at the Seattle Animal Control Animal Shelter. Kathleen Kelly and I together run the "Sundays in the Park Program". Have you ever been at Greenlake in Seattle Sunday morning and seen a gaggle of dogs in blue "I'm available for adoption" banners? That's us. I also assisted with the dog and dog handler training, sometimes walked the dogs at the shelter on Saturdays, and helped out with occasional special events (notably our fabulous summer Adopt-a-thons at Greenlake). You should visit your local shelter, and get yourself a dog, cat, rabbit, or other beastie.

I enjoy cycling as both a hobby and a means of transportation. Summer of 1999, I rode the STP for the first time (see www.cascade.org). That's a 200 mile ride that starts in Seattle and ends in Portland. I made it! I took round about 18 hours at a leisurely 10 mph average on the first day (including breaks) and about 12 mph on the second. We stayed in Vader, Washington at the Vader Assembly of God (I'm not kidding!) for the night, and Rachel picked us up and drove us back to Seattle.

As of June 19th, 1999, Rachel and I own a cat. Her name is Fauna NMI Xerxon, but we call her by her middle name, pronounced "Nimmie". Take a look at NMI. She likes standing on my chest and rubbing her head against my beard; who wouldn't?

Want to get really personal? Well, some of the women in the department (including my wife) made the Men of Sieg Hall Calendar. I'm Mr. September. At first it was just a joke, then it was supposed to raise money for some worthy cause, but in the end, we couldn't find a good printing service; so, it became just another fixture of the bizarre substructure of the web. Want to see it? Well, this is the perfect chance for you to learn to use a search engine! I recommend Google, myself.