LAN WU
63117055
ASSIGNMENT 1
CPSC 533 C
STORIES BEHIND BOTH VISUALIZATIONS:
Both of the two visualization approaches are cited from InfoVis 2004 Contest in which the history of Information Visualization is explored and visualized.
Resource: http://www.cs.umd.edu/hcil/InfovisRepository/contest-2004/12/unzip/standardform2004_KeimPaScSiBar.html
1) GOOD EXAMPLE OF VISUALIZATION:
Figure 1: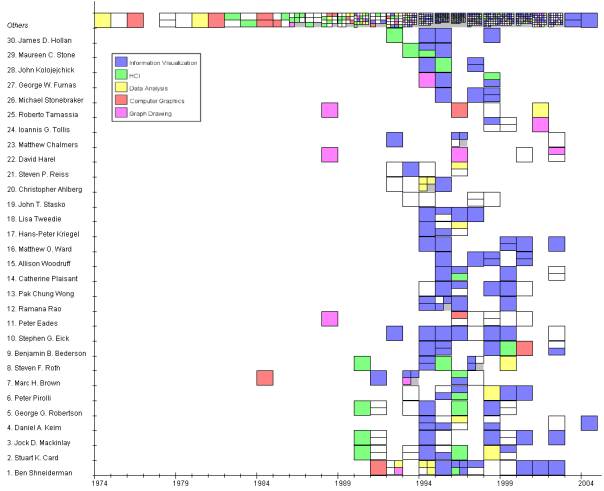 The figure shows static overview of 10 years of Infovis. The basic idea is to use the x-axis for the time attribute (year) and the y-axis for the author name. The color represents the topic each paper belongs to.
There are several elements to this visualization that make it both visually appealing and easily interpreted. First, the figure defines five categories by assigning five obviously different colors: Information Visualization, HCI, Data Analysis, Computer Graphics and Graph Drawing. In addition, the y-axis is labelled with a ranking of the authors contained in the data set, ordered by the number of their publications. The publications are at the same time distributed at the x-axis by the year they are published. Therefore, although not complicated, the figure really conveys a lot of information: the main researchers of the areas we are interested, and hot topics of each researcher and at different time, etc.
2) BAD EXAMPLE OF VISUALIZATION: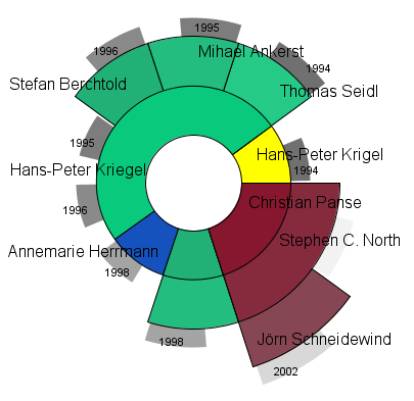 The figure shows the co-operation relationship between two researchers(in this figure, Daniel A. Keim and his co-authors). The basic idea is to place the data items as circle segments in an circular layout. The circle corresponds to the publications belonging to one author and each circle segment around that circle represents a co-author. On the outer side of that circle is that year the collaboration of the co-authors being published. Each segment represents a piece of co-publication.
Although the figure displays the information in a circular shape, in order to make full use of the space more reasonably, it is somehow a little misleading. First of all, the information is not well-integrated, because 1995 and 1996 both appear twice. They should have just showed up once, though Danish may collaborated with more than one researcher in those years. Furthermore, the figure tries to use different colors to correspond to different co-authors. However, the color green seems to represent many co-operation relationships from 1994 to 1996. More colors are expected here. In addition, in the lower part of figure, two segments in green in 1998 are not lablled.