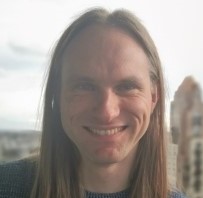 Activities
I play piano, hockey, board games, computer games and badminton; I also like to ski. Not necessarily well, or in that order, but they keep me amused.
Big Band
I was a member of Imperial College Big Band for 7.5 years (and was allowed to sneak back for a few years after that). I played the piano in the band, and very much enjoyed it. I was the Gig Manager for the big band for 3 years (while Matthew Knights and Tom Woodcock were chairmen), during which time we won a Gold Award at the National Concert Band Festival; I was also the Webmaster/Librarian for the band for several years. In April 2009 we entered the National Concert Band Festival for a second time and won a Gold Award again, playing some of my very favourite music! Listen to the recordings here.
Hockey
I was a member of Red Sox Hockey Club Zürich for more than 8.5 years, which I enjoyed very much. I have played for both Men's Teams, in both in the outdoor and indoor hockey leagues. I play in goal, and at one point gave goalkeeper training to the junior players.
Back in my student days I was a member of Imperial College Hockey Club for 9 years. My ancestral home is the Men's 4th team, known to ourselves as The DeIViants, although at times I played for all of the Men's and Mixed teams. I was joint Mens 4th captain with my friend Doug Blackie in the 2006/2007 season. Similarly, we were joint Fines Chairmen for the team, in 2005.
Tea
In 2008 some friends and I set up Imperial College Tea Society, having spotted a gap in the market for social clubs arranging to meet up and sit around drinking (excellent, and varied) tea, eating (less varied, and often chocolate) biscuits, and chatting about (extremely varied) stuff. TeaSoc has been a great success, with 73 official members in our first year, around 40 different kinds of tea drunk (at a wild guess) and most importantly, plenty of banter in the process. The society appears to be still going last I checked, and I hope to hear of it continuing in strong (but not stewed) fashion.
Family
My immediate family are based in and around my birthplace Exeter, which is a very nice (small) city. I am the oldest of lots of siblings.
My stepmother has a website displaying her artwork here.