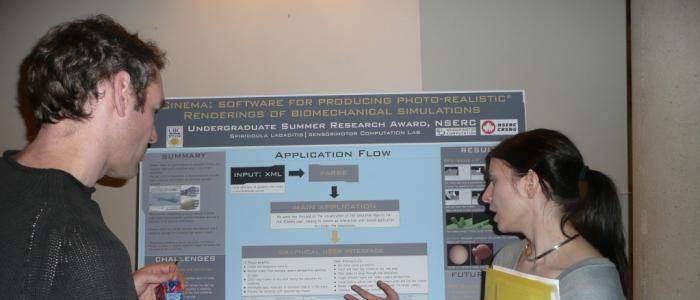 e-Portfolio Competition
Although the competition is currently on hold until further notice, there are plans to resume in years to come.
The Computer Science department has hosted this annual e-Portfolio competition for our undergraduate students in past years.
Why?
More and more employers now ask job applicants to include samples of their work (or a link to a website where these are hosted) in their application.
By developing an e-portfolio (online samples of your work) for the contest, you're ready to creatively showcase your best technical skills.
Overall Contest Guidelines
Assume that an employer would be reviewing the e-portfolio you submit.  You will want to highlight the best examples of your work.
The e-portfolio needs to be as well organized, concise and creative as possible. The judges evaluate e-portfolios based on originality, creativity, depth of thinking and your technical understanding of an area of study. Projects that help the community (a broad category that can include everything from projects done for non-profits, to open-source contributions or projects benefiting people's health and well-being in some way) will be considered a strong asset.
Possible things to include:
Independent projects you've developed (e.g. computer-generated artistic work, mobile apps, business plan, computer games).

Research projects, highlighting your particular contribution.
School projects, either individual or team. If you include a team project, be explicit about your particular role in its success.
Prizes
Prizes awarded in past years have included an iPad Air, $500 cash prizes from TELUS, MyPlanetDigital and Orbis Funds, $300 Apple gift cards, as well as NEXUS phones and Kinect controllers.
Support
Students are encouraged to get together on a regular basis to work on their projects.  We typically set aside a lab during term time for Computer Science students to exchange ideas, get peer support, and learn from experienced speakers and workshop facilitators.  
Deadline
The deadline for submitting your completed portfolio to the competition is usually the Monday after Reading Week at noon, with winners announced in late March/early April. 
Note: This contest is open to UBC Computer Science majors only.