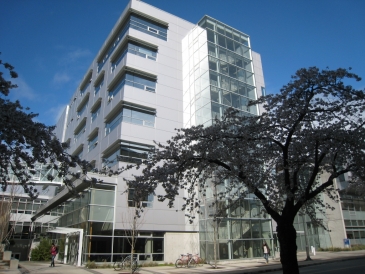 ICICS/CS Building (Main CS office)
Department of Computer Science
The University of British Columbia
201-2366 Main Mall
Vancouver, B.C. V6T 1Z4   Canada
Tel: 604-822-3061
Fax: 604-822-5485

Regular Office hours
8:30 - 4:30 (M-F) Currently closed due to Covid-19
Building Access hours
7:30 am - 6:30 pm (M-F)
Currently closed due to Covid-19

Help Desk
Room 103, ICICS Building 
Hours: 9:00 - 4:30 (M-F) 
Office currently closed due to Covid-19 
 
Contact us about
The undergrad program:   undergrad-info@cs.ubc.ca
Graduate program:   grad-info@cs.ubc.ca


Hugh Dempster Pavilion  
6245 Agronomy Road, Vancouver, BC
*Currently closed due to Covid-19
7:30 am - 8:00 pm (M-F)        
7:30 am - 6:00 pm (Sat.)
The Hugh Dempster Pavilion consists of three lecture theatres and two classrooms. Most Computer Science lectures take place in the Hugh Dempster Pavilion. It is named after the late J.R. Hugh Dempster, one of the founding fathers of the Department.
Public Transit
Use the Translink website to plan your route to UBC, or use the "Bus" option on Google Maps direction-finder, which will likely have you arrive at the UBC bus loop near the SUB. Walk west from the bus loop, and then south along Main Mall. There are also shuttle routes for getting around campus. More info.
Parking
The Thunderbird Parkade and Health Sciences Parkade are the closest parkades to the ICICS/CS building which is located at 2366 Main Mall and the Hugh Dempster Pavilion at 6245 Agronomy Rd. It takes approximately 5 minutes to walk west from the parkades to the building. The "B4" Lot on the corner of Main Mall and Agronomy is much closer than the parkades, however it may be difficult to find spots. It also has several short-term meters. More info.