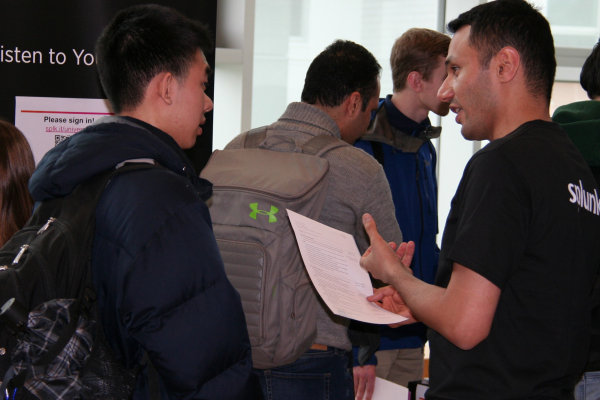 At the UBC 2020 Tech Career Fair
They came. They talked. They handed out resumes. Over 2,000 of them.
And they left happy. 
The 2020 UBC Tech Career Fair, held January 30-31, 2020 in The Nest's Great Hall on campus was a resounding success for all. The annual endeavour was hosted by the UBC Computer Science Student Society (CSSS), UBC CS Department, UBC IEEE, Cognitive Systems Society and Engineering Physics.
The 2-day affair featured 68 companies, providing the perfect scenario for undergraduate and graduate students to chat with industry recruiters. 

This was the largest Technical Career Fair in UBC's history, with students and graduates lining up to chat to companies of interest and enthusiastically handing over resumes.

Fair attendees were able to showcase their portfolios, network, and find out more about internships and post-graduate career opportunities. Industry recruiters were also able to get a better idea of the calibre, areas of interest, and personalities of students and grads soon entering the workforce.
For more information, visit ubctcf.com and watch for updates there later in the year, about Tech Career Fair 2021.