WCCCE 2023
The Western Canadian Conference on Computing Education (WCCCE) 2023 May 4-5, 2023, The University British Columbia, Vancouver, Canada
Conference
After a multi-year pause to an in-person conference forced on us by COVID -19, we are pleased to announce the 25th Western Canadian Conference on Computing Education. The conference is a forum for discussing the development of computing programs and curricula, and for sharing innovative strategies and tools for teaching & learning in fields such as computer science, software engineering, computer technology, information systems and information technology. It will bring together educators from the western provinces, the rest of Canada, and beyond, giving them the opportunity to share their experiences and learn from one another. The Department of Computer Science at The University of British Columbia is pleased to be hosting the conference in 2023.
Venue
WCCCE 2023 will take place in Vancouver, British Columbia, Canada on May 4-5, 2023. The conference sessions will be held on The University of British Columbia Vancouver campus. WCCCE 2023 will have a hybrid format.
Important Dates
Submissions due: March 25, 2023 extended to March 27, 2023
Author notifications: early April, 2023
Conference: May 4-5, 2023
Keynote Speakers
Dr. Eleanor O'Rourke
June and Donald Brewer Junior Professor
Computer Science and Learning Sciences
Northwestern University

Dr. Leo Porter
Associate Teaching Professor
Computer Science and Engineering
UC San Diego

Dr. Mariana Teixeira Silva
Teaching Associate Professor
Computer Science
University of Illinois at Urbana-Champaign

Details of the talks coming.
Cooperating Organizations
WCCCE 2023 is presented in cooperation with the ACM Special Interest Group on Computer Science Education (SIGCSE).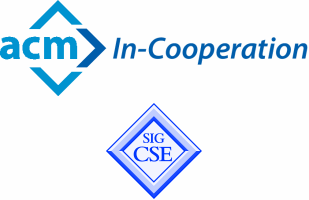 Sponsors
Information about our sponsors coming soon.